The Scottsdale area is blessed with many great wilderness preserves nearby, including some located right inside the incorporated cities within Maricopa County. All feature hiking trails to suit all fitness levels - from relatively flat strolls for casual hikes to trails guaranteed to give even the strongest a good workout.
Visitors from out of town, and even some locals, frequently ask our store staff about a few good places to go hiking, so we've put together our top 10 suggestions for good hikes that are all a short drive from central Phoenix. Some of our favorites are the trails you can hike in and around the Papago Park area:
625 N. Galvin Parkway
(602) 495-5458
Papago Park is located on the east-side of Phoenix, near the border of Tempe and South Scottsdale. The hiking trails are easy hikes and are relatively smooth. The 1,200 acre park is home to "Hole in the Rock" a red rock that is distinctive to its landscape. Its massive, otherworldly sandstone buttes set Papago Park apart, even in a city and state filled with world-class natural attractions. While visitors to Papago can enjoy its extensive trail network through Sonoran Desert habitat, they can also enjoy the parks two major residents, the Phoenix Zoo and Desert Botanical Garden, world-class attractions that draw millions of visits each year.
All gated roadways and trailhead parking areas are open 6 a.m. to 7 p.m. for the park located east of Galvin Parkway. Trailhead parking west of Galvin Parkway is sunrise to sunset or 7 p.m. whichever, comes first. Though gated parking areas including restrooms and ramadas will close at 7 p.m., the trails remain open until 11 p.m.
Papago's desert trails are generally smooth, easy treks with little elevation gain, making it a great place for a family hike or to hone your mountain biking skills. Here are the main trails in the park:
West Park Accessible Trail - Easy trail, mostly smooth & wide
Length: about 1.2 miles
Elevation gain: minimal, but the second half of the trail becomes more difficult for wheelchair users with a few slopes that exceed 5 percent grade.
This is an asphalt surface that follows accessible guidelines for the first .6 of a mile. There are three benches along the way and this first part of the trail goes near Eliot ramada. The second part of this trail has the same surface but has a few slopes that exceed 5%.
West Park Loop Trail - Easy trail, mostly smooth & wide
Length: 4 miles
Elevation gain: minimal, about 50 feet
This trail begins from the parking lot on the west side of Galvin Parkway. To the east of the parking lot is a single track, dirt trail that heads north towards the big buttes. It continues counterclockwise around the big butte and heads south around the smaller butte. It continues west around the golf course eventually leading back to the parking lot. This is an easy trail for hikers and mountain bikers.
Nature Trail - Easytrail, mostly smooth & wide
Length: .25 mile
Elevation gain: none
This trail begins at the ranger office (follow the signs from the park entrance. This easy trail features interpretive signs that describe Sonoran Desert plants and animals.
Hole-In-The-Rock Trail - Easy trail, mostly smooth & wide
Length: Very short, about 1/10 of a mile.
Elevation gain: about 200 feet
This very short trail leads to a very popular landmark with some very good views. Even though this trail is very short it gains all of its elevation in a very short distance.
There are several picnic ramadas surrounding a 7.8 acre lagoon that is regularly stocked with fish. Be sure to get a required urban fishing license. Do consider the extreme weather potential before heading out on a hike here around Papago Park or anywhere in the Scottsdale area, especially if you are a first-time visitor. The best time to hike is October through April when temperatures are moderate or even cool in places. Between May and September though, it can be brutally hot, so head out at sunrise before things really get cooking!
Either way, make sure you're properly outfitted with the right shoes, hiking socks, snacks, day packs and other hiking gear before your next outdoor adventure. Just stop by LowerGear - your local wilderness retailer in Tempe, easily reached near the intersection of 101 and 202 east of the ASU campus.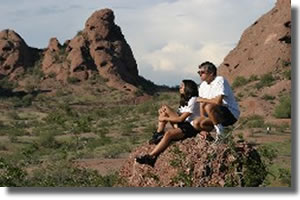 Papago Park is just one of our top 10 favorite hiking spots in the Scottsdale area. We have trail and hiking information on the other 9 at the links below (with their general location vicinity). Click on the listing for more information on that hiking area.
Cave Creek Regional Park (north Phoenix / Cave Creek)
Camelback Mountain (north-central Phoenix)
Piestawa Peak (north-central Phoenix)
South Mountain (south Phoenix / Ahwatukee)
Usery Mountain (east Mesa)
Estrella Mountains (west Phoenix / Goodyear)
McDowell Mountain Regional Park (north-east Scottsdale)
Dreamy Draw (north-central Phoenix)
Lost Dog Wash (north-east Scottsdale)