These instructions for the SPOT Messenger apply to the latest online profile configuration at www.findmespot.com which is always subject to change by SPOT. However, even if changed a bit, you should be able to follow these instructions to properly setup your SPOT device. We are an authorized SPOT dealer and rent SPOT units to customers traveling all over the world. We will ship direct to your home anywhere in the US, and the box with the SPOT will have additional instructions on a printed sheet.  To use the device, see the instructions we send or find user manuals online
1) Go to login.findmespot.com to access the sign in page below. Or click on the "My Account" link from the home page to access this same page. Enter your user name and password as provided with the unit.  You do not have to "activate" the unit - that is already done for you.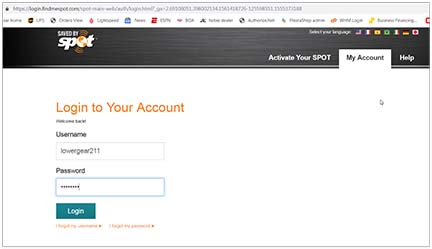 2) Once logged in, you'll see a page like below. Click on the "My Devices" , and then"view/edit".
3) The next page you'll see below is where you will edit the SPOT messages and the recipients for three different message types:
   a) I'm OK, for peace of mind for people at home
   b) Help, for assistance from home, or use as an alternative message
   c) Custom, for anything you want.
See the image after this one for more detail on what information to enter.

4) Get rid of all current placeholder emails and messages like shown below and replace with your own on the SPOT menu page. We suggest putting only your personal email in at first and experiment with the device and button at home before you leave. Once you're familiar with how the device works and what all the lights mean, then go in and add the actual targeted recipients of the messages you'll send when on your adventure.

5) The SOS info is for use by rescue services if you activate SPOT's SOS button on your trip. For obvious reasons, DO NOT "TEST" THE SOS BUTTON! Enter phone numbers without dashes. In the "additional information" box, we suggest your itinerary, group makeup; anything else that would be helpful to searchers. The primary and secondary emergency contacts will be called by the rescue service and will be notified of your status when known.




6) An additional, free but optional feature of SPOT is to setup a "Shared page". This will create a unique URL you can send to friends and family and they can see all of your messages on a map over the past 7 days (as opposed to the one-at-a-time emails. If you use the "Tracking" feature - the send-every-ten-minutes-automatically button, this is the only place those messages will show up.

7) Name the page anything you want and click "create" to see the URL. Copy and paste to send to whoever you wish.
That's it! You're ready to send periodic and emergency messages to friends, family and rescue services using SPOT from just about anyplace in the world. Feel free to contact us at Lowergear Outdoors if we can help.