If you are doing research before joining the more than 80,000 customers that have rented our camping and travel gear, or have already received your camping gear rental package from us, here's where you can learn about the setup and operation of a specific travel or camping gear item before you head out on your next trip.
The information below provides more details on how to operate the portable camping shower we rent, but we encourage you to give us a call or find more resources online if more details are needed. For more information on this rental item including rates, check out the main product page at
Rent a Portable Shower
. There are more how-to pages on nearly all of our most popular rental items; find most at our
video and user guide to rentals main page
.
The shower unit consists of a container, foot pump and water tube with a nozzle in a compact, lightweight package - less than 2 pounds.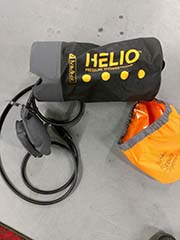 The top of the container is where you pour in water.  As it a small-diameter hole, use a funnel of some sort if wanted.  Use the cleanest possible water, as this after all, is for a shower.  The container will hold a little under 3 gallons, enough for about 5 minutes of spray.  You can leave the container in the sun for some heat, or pour in a quart of boiling water from your stove to warm things up.  Always test the water for heat levels before a full-on spraydown on your body.  Make sure the top plug is on tight so air pressure from the pump will be retained.
The bottom of the pump has 2 tubes coming out - one is for the foot air pump to pressurize the container of water, and the other is the shower hose with a hand nozzle at the end.
There is a valve on the top of the foot pump; keep this open while pumping.  It doesn't take many strokes with the pump to get water flowing, and you can refresh the pressure in the shower as the water is used up.  No need to hang this container! 
You can hang the nozzle from the side of the container to keep it off the ground while you lather up.  Matched up with
the privacy shelter we rent
, this a great way to get the camp grime cleared off!