If you are doing research before joining the more than 80,000 customers that have rented our camping and travel gear, or have already received your camping gear rental package from us, here's the page to learn a bit more about the setup and operation of a specific travel or camping gear item before you head out on your next trip.

The information below provides more details on how to use the headlamps, but we encourage you to give us a call or find more resources online if more details are needed. For more information on this rental item including rates, check out the main product page at Rent Light - Head-Band Style. There are more how-to pages on nearly all of our most popular rental items; find most at our video and user guide to rentals main page .

We vary the brands and models of the headlamps we rent, but all are similar - adjustable straps to fit any size head, and the lamp piece will rotate up or down to adjust how far the beam carries depending on your trail or camp needs.




Most of the rental lamps use 2 or 3 AAA batteries.  buy some before you head out - we make sure the light work before shipping, but have no idea how much life is left in the batteries.  The battery compartment is typically accessed with a latch or snap-to lid; most can be lifted with a fingernail.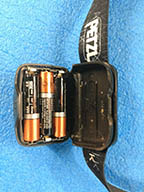 There will be an obvious power button on the light, but not so obvious is that you may have to hold the button down for a few seconds before it will power on.  This is by design so it is less likely the light is turned on by accident. And, some lights have a locking slide switch that has to be moved into the 'unlocked' position before it will power on.  That will conserve battery power while the head lamp is not in use.




Most of the lights we rent have a red LED option along with several levels of brightness controlled by the power switch.  The different levels are accessed by either quickly pressing the button to get to the next power setting, or in some cases by keeping the button depressed so it can cycle through the levels.  If present, typically the red LED light is the first setting, as that protects your eyes from the bright glare of a white light if turned on in pitch black.     



Here is an overview video about the rental headlamps