If you are doing research before joining the more than 80,000 customers that have rented our camping and travel gear, or have already received your camping gear rental package from us, here's where you can learn about the setup and use of a specific camping or travel gear item before you head out on your big adventure.
The information below provides more details on how to use the sleeping bag for two, but we encourage you to give us a call or find more resources online if more details are needed. For more information on this rental item including rates, check out the main product page at
Rent Sleeping Bags - Double Wides for Two Campers
. There are more how-to pages on nearly all of our most popular rental items; find most at our
video and user guide to rentals main page
.
The sleeping bag for 2 we rent is a great option for a couple, or for a single that hates constrictive mummy bags. Some of the pictures below are for other models, but the function explanations are the same.
This sleeping bag is not recommended for backpacking trips due to its size. The stuff size is roughly 20" long by 9" in diameter and it weighs about 5 pounds. As this could pretty much fill up a backpack by itself, this bag is better suited for traditional car-camping.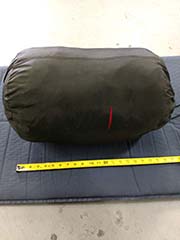 All of our sleeping bags have cowl cinches so you can draw in the cowl to help retain your body heat within the sleeping bag you rented
The 2-person sleeping bag we rent has a long zipper that can be release to allow use as a large blanket. There is no insulation under the bag, so you need to
rent a mattress pad
to go under it. There are slots for inserting the pads into the bag if desired.
Here is a quick video showing more about the rental sleeping bag for two